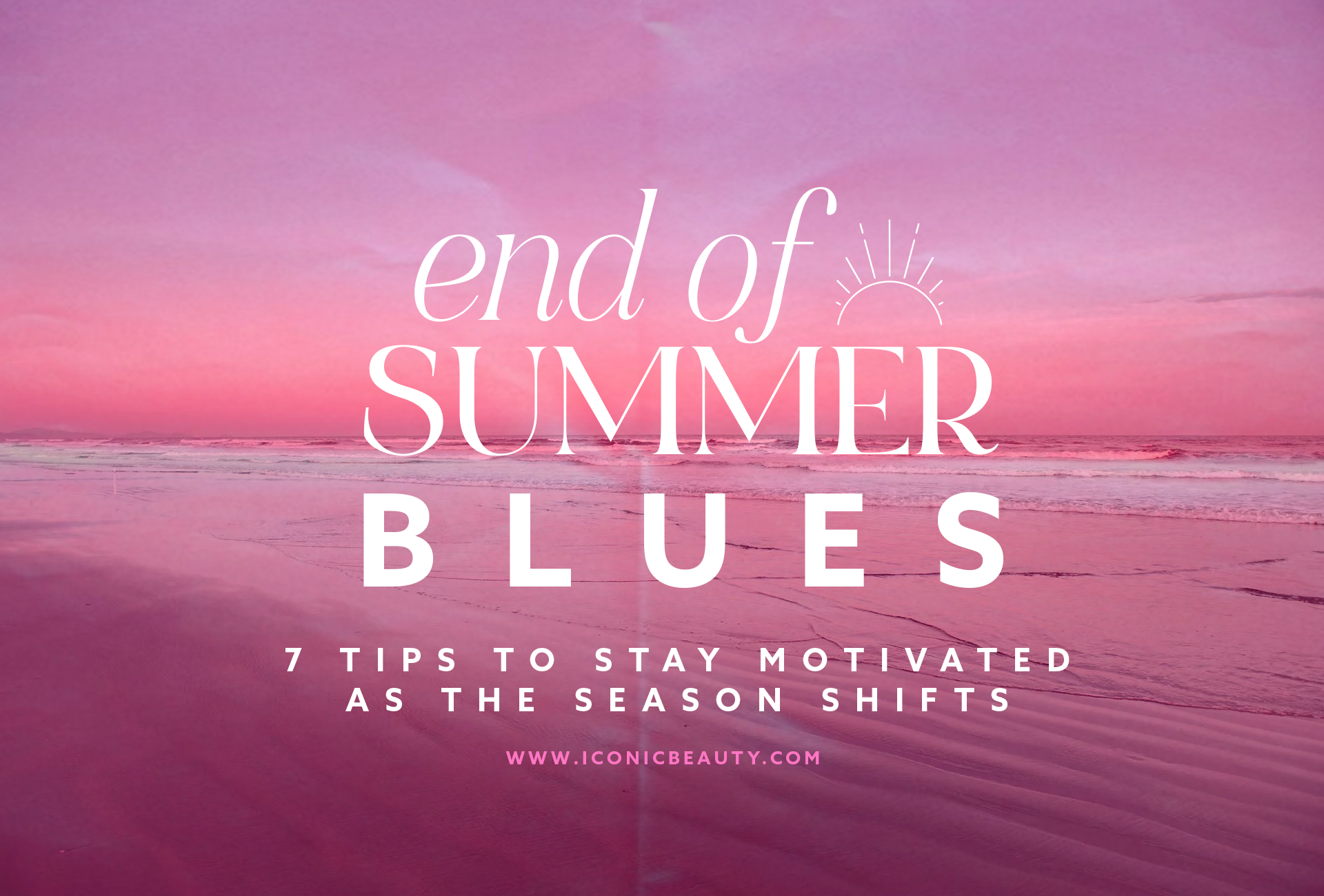 7 tips to stay motivated as the season shifts
As summer fades into fall and the sun sets earlier and earlier, it's easy for a sense of sadness or gloom to set in. The kids are back in school, we're overwhelmed by activities, and the vacation you were looking forward to has come and gone. The weather cools off and many of us would rather cuddle beneath a blanket, binging on our favorite show than attacking the mountain of work piling up on our desks. However, the end of summer doesn't need to be depressing and with these tips, your motivation doesn't have to drop like the leaves. 
7 Ways To Stay Motivated
Re-evaluate Your Goals With fall in full swing and winter approaching, time is ticking down on the resolutions you set in January. Take a day to look back at your goals for the year to not only take note of what you still want to accomplish but acknowledge how far you've already come. Make sure the path you're traveling still feels authentic and aligned with your goals. No matter what time of year it is, it's never too late to pivot or get started. 
Get Organized Whether it's your closet, desk, or calendar, a lack of organization can clutter not only your space but your mind. When you are in a calm and organized environment, it's easier for your brain to settle and focus. Check in with our favorite ladies at The Home Edit for tips, tricks, and overall inspiration for all of your organizational needs. Take stock of your days,  notice where you struggle the most, and make a plan to organize your time with a schedule and routine that works for you.
Self-Care Being productive is great, but so is being kind to yourself. If there is a day where you really just need a day cuddled up on the couch then do it! Allow yourself the time you need to rest and don't feel guilty for listening to your body. Spend time taking care of yourself, and charge your battery in order to show up the way you want to. For ideas on self-care activities that don't cost a dime, check out these 10 iconic ideas!
Sunny Supplements The sun may be setting earlier, but vitamin D is still a vital part of keeping us happy and healthy. On days where you can, put on your coziest sweater and get out of the house to soak up some rays. However, when it's gloomy and gray, make sure you're prepared to get it in other ways. If you aren't already, add taking a vitamin D supplement to your morning or night routine, and–for all of our overachieving beauties–you can buy a vitamin D light therapy lamp to keep on your desk for an extra boost!
Stay Connected At Iconic Beauty, community is kind of our thing. We understand the importance of having a strong support system surrounding you. After the last couple of years of isolation, it's easy to close yourself off from the outside world when you're feeling down and unmotivated. Fight against this urge and instead reach out to those around you. Find an accountability partner who is only accountable for cheering you on and validating your efforts. Tap into your relationships and allow your vulnerability to deepen connections. 
Visualization In the words of the great Ariana Grande, "I see it, I like it, I want it, I got it." While it might seem a little woo-woo to some, there is scientific proof that visualizing an action stimulates the same brain regions as when we actually perform that same action. If you are beginning to lose focus or motivation, try imagining what success will look and feel like for you. The results won't be apparent as soon as you open your eyes, but visualization can get the ball rolling in order to achieve your goals in the future. 
Reward Yourself Treat yourself. Life is too short to not enjoy the time we have here. When you achieve your goal, don't brush it off. Celebrate every single one of your wins! Set goals and pair them with a reward to not only help you stay motivated but to give yourself permission to take a moment to bask in your growth and accomplishments. Maybe it's a glass of wine for meeting a deadline or a day at the spa for booking a client. Choose whatever motivates and inspires you to acknowledge how absolutely Iconic you are.
Just because the weather is cooling down doesn't mean you have to, Beauty. By staying organized, listening to your body, and leaning on those around you, you can stay motivated and beat the end of summer blues. Which of these seven tips are you most excited to try? Leave a comment below and tag us on Instagram @IconicBeauty showing us how you integrated them into your life.