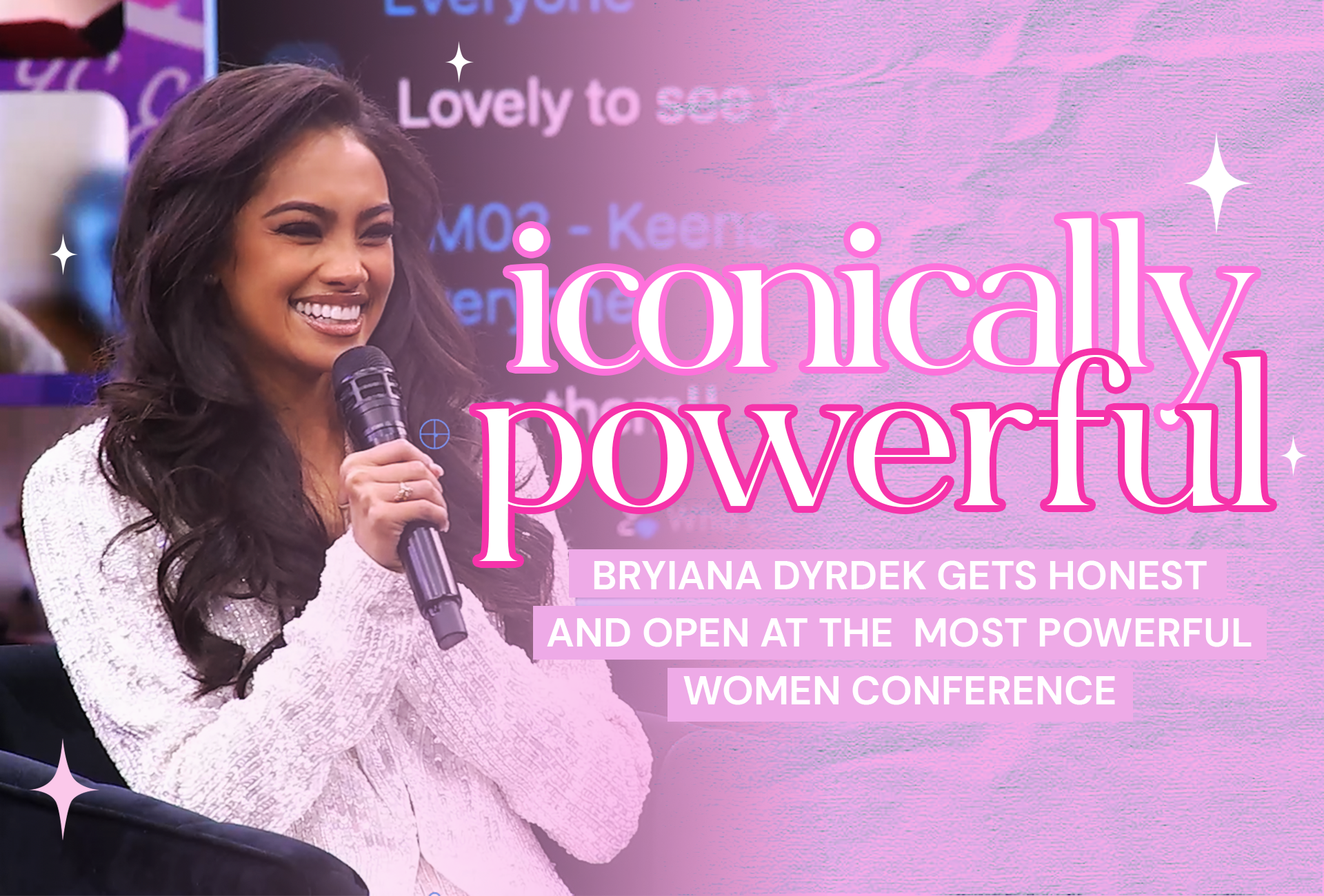 Donning her signature long, glistening locks and a silver power suit dripping in sequins and beads, Iconic Beauty President Bryiana Dyrdek, stepped onto the Most Powerful Women in Network Marketing stage with confidence and a mission.

Having first joined a network marketing company soon after moving to Los Angeles in 2014, Bryiana was thrilled to share her first-hand knowledge of the power network marketing wields when done correctly. 
"This has been on my vision board since 2017," she said to host Marina Worre, her eyes sparkling as brightly as her suit. "I'm so excited to be here."
The Most Powerful Women in Network Marketing conference takes place over three days at Worre Studios in Las Vegas, Nevada. Marina Worre created the event with a vision of helping women build their businesses and providing tools that will assist in every area of their lives, something Bryiana can relate to. As the founder of Iconic Beauty and Iconic Wine Beauties, she is passionate about empowering women through knowledge and community. And while most may know her as a model and business owner, Bryiana credits where she is today to saying yes to an opportunity all those years ago.
"I was in a really, really dark, dark place. Network marketing came into my life in 2014 and when I tell you that it didn't just change my life, it saved my life. I mean that with every fiber of my being." Bryiana unarmed the audience with her sense of openness and vulnerability. "I would not be here if someone didn't come into my life and say, 'Hey, we're doing this thing.'"
This thing, of course, was network marketing. Providing her with a sense of belonging when she needed it the most, they breathed life into her that she had never before experienced. "These people believe in my dreams as much as I do and it eventually started helping me to believe in my dreams even more than I was before," she recalled of her experience. 
Growing up in a town plagued with violence and a broken home, finding a community where she felt safe and supported provided her with the foundation to grow into the woman she is today. While Bryiana notes that financial freedom is a strong motivator for joining network marketing, it was the unexpected benefit of meeting others that truly changed the trajectory she was on.
"You don't understand how much your life can change by you helping someone change their life. It's going to change you!"
As the conversation continued, Marina, a family friend of the Dyrdeks, was determined not to allow Bryiana to downplay her many accomplishments. "You are an investor, you're a businesswoman, you're a wife, you're an amazing mom… You juggle so many things," Marina told the crowd. "But beyond just creating beautiful events for your family, you're actually making it a point [to create] new memories and habits and traditions."
What began as a compliment on the many hats Bryiana wears transitioned into the importance of not only prioritizing what means the most to you in your life but also breaking generational cycles that no longer serve you. 
"I think from not having a healthy home life growing up, I wanted the cycle to end with me. So I thought that meant not having kids, not getting married, not passing down that negative cycle. Until I realized that there's nothing I love in the world more than this man… I can break the cycle by stepping up and being different." Bryiana said to applause. 
She went on to explain how she went about breaking the generation curses that had plagued her for so long. Through being brutally honest with herself, she set about determining the kind of person she wanted to be in every aspect of her life. She made a dream list of who she could become as the best version of herself and though she knew this growth wouldn't happen overnight, she set about tackling the list right away through hard work and personal development. 
"That has been, truthfully, the best part of my network marketing journey was the personal development. I learned how to be a better person because other people in the industry were pointing out how to do that. And I think that's why events like this are so important," she said. "Because there's always going to be someone out there who has it better than you and worse than you in any category of your life. So if you can learn from the people who do have the things you want, then you can… divorce the things in your life that you've been attached to for too long and really bless and release."
As an introvert, stepping out of her comfort zone and sharing these experiences isn't always easy for her. However, Bryiana hopes that by using her influence, sharing her family's traditions can inspire others to create memories with their loved ones. "... at the end of the day, if part of my goal is to be an amazing mom and to change the world that my kids inherit, I have to step up and I have to step outside of my comfort zone."
As the conversation wound down, Marina closed with one simple, but meaningful question: What would you say now to little Bryiana?
In perhaps the most touching moment of the conversation, Bryiana was unable to hold back her tears as she shared her answer. "I would just give her a hug. Little Bryiana needed love… she needed to feel safe and she needed to feel protected and she needed to know that everything was going to be okay. And I wish she could see me now."
Well, Bryiana, we think she can see you now and that she feels every ounce of love and safety of the world that you have created.