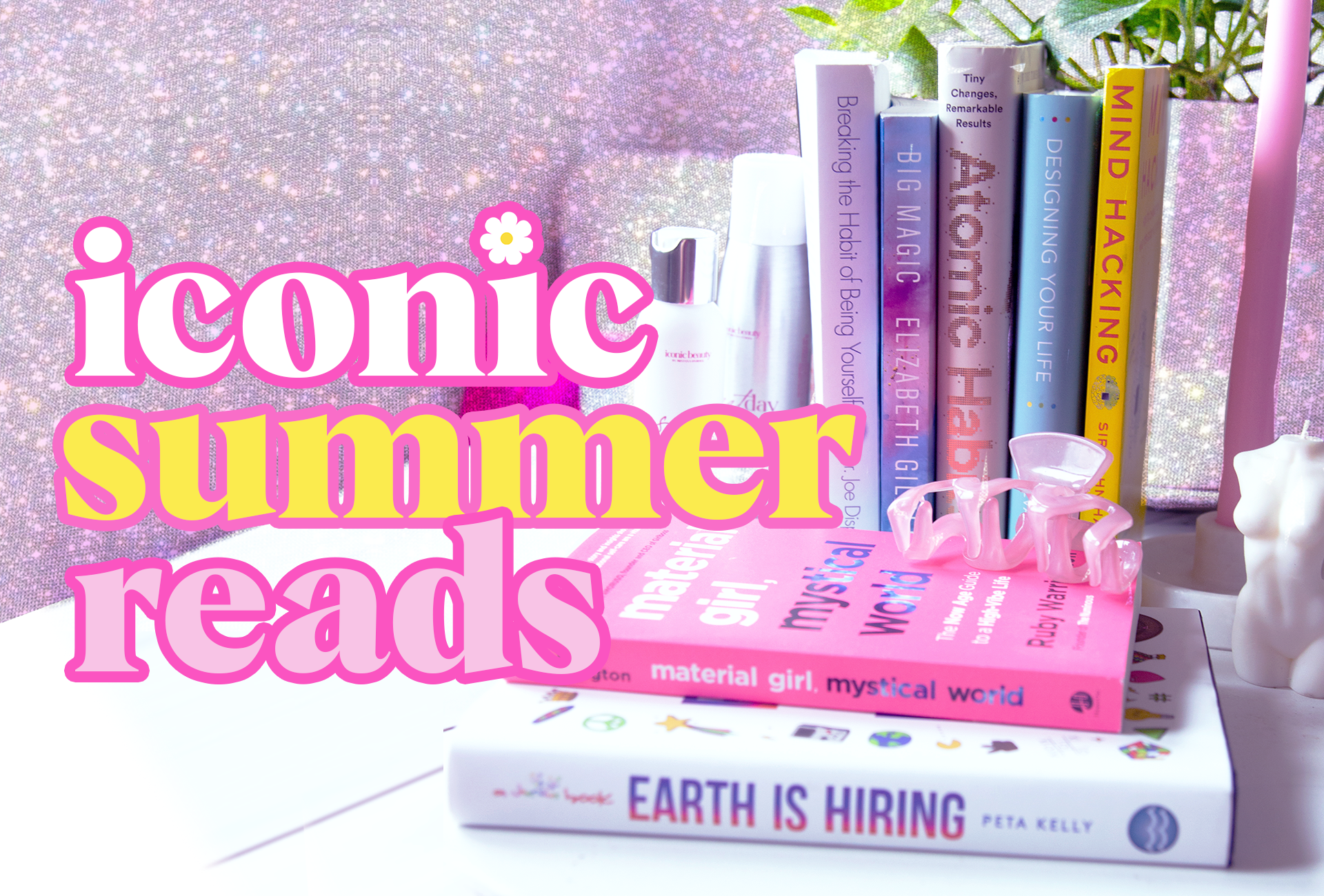 Our favorite reads for this summer
The perks of summer are endless. Days at the beach, vacations with friends and family, or even just relaxing in the backyard while soaking in some very necessary vitamin D, the sweetest pleasures seem even more joyful during these summer months. Summer is when you enjoy frozen cocktails on nights out with your girls or a cool beer while watching baseball, but we think the only thing that pairs better with summer than rosé is the perfect book. Whether you're looking to work on personal development or you want to be whisked away to another world, we have the perfect reads for you this summer. 
Think and Grow Rich by Napoleon Hill 
Think and Grow Rich, based on the author's famed Law of Success, represents the distilled wisdom of distinguished men of great wealth and achievement. 
Andrew Carnegie's magic formula for success was the direct inspiration for this book. Carnegie demonstrated its soundness when his coaching brought fortunes to those young men to whom he had disclosed his secret. 
This book will teach you that secret—and the secrets of other great men like him. It will show you not only what to do but also how to do it. If you learn and apply the simple basic techniques revealed here, you will have mastered the secret of true and lasting success—and you may have whatever you want in life!
No matter your goals, Atomic Habits offers a proven framework for improving--every day. James Clear, one of the world's leading experts on habit formation, reveals practical strategies that will teach you exactly how to form good habits, break bad ones, and master the tiny behaviors that lead to remarkable results. 
If you're having trouble changing your habits, the problem isn't you. The problem is your system. Bad habits repeat themselves again and again not because you don't want to change, but because you have the wrong system for change. You do not rise to the level of your goals. You fall to the level of your systems. Here, you'll get a proven system that can take you to new heights.
Clear is known for his ability to distill complex topics into simple behaviors that can be easily applied to daily life and work. Here, he draws on the most proven ideas from biology, psychology, and neuroscience to create an easy-to-understand guide for making good habits inevitable and bad habits impossible. Along the way, readers will be inspired and entertained with true stories from Olympic gold medalists, award-winning artists, business leaders, life-saving physicians, and star comedians who have used the science of small habits to master their craft and vault to the top of their field.
Learn how to:
make time for new habits (even when life gets crazy);

overcome a lack of motivation and willpower;

design your environment to make success easier;

get back on track when you fall off course;
...and much more.
 Atomic Habits will reshape the way you think about progress and success, and give you the tools and strategies you need to transform your habits--whether you are a team looking to win a championship, an organization hoping to redefine an industry, or simply an individual who wishes to quit smoking, lose weight, reduce stress, or achieve any other goal.
Material Girl, Mystical World: The Now Age Guide to a High-Vibe Life by Ruby Warrington
Inspired by the consciousness-shifting traditions that have moved seekers for generations, Material Girl, Mystical World is a fabulous adventure in the "Now Age"—a sophisticated upgrade on cosmic thinking, from healing crystals to doing your dharma, for women who know that a closetful of designer shoes can happily coexist with a deeply meaningful life.
Set against the backdrop of Ruby Warrington's own transformative path from her dream job as an influential fashion journalist to creating The Numinous, the high-style, high-vibe online magazine about spirituality for modern women, Material Girl, Mystical World invites readers on a colorful journey to discover their own path to personal enlightenment in every area of life, from love, sex, and relationships to fashion, beauty, health, and wellness.
Combining the wit and charm of a modern-day Carrie Bradshaw with the stylish soul of Elizabeth Gilbert, Warrington shows us that it is within our power, right now, to create a life that is both intentional and fabulous—while also contributing to a major shift in global consciousness.
From how to survive and thrive at Burning Man to creating rituals that celebrate the Divine Feminine to exploring the shaman in you, Material Girl, Mystical World is an inspiring call to arms for women looking to find their authenticity and voice in business, relationships, and spirit, from Brooklyn to London to Venice, C.A., and Black Rock City and beyond. A writer to watch, Warrington bestows on readers her wry, winning, and ultimately wise take on modern life.
Designing Your Life: How to Build a Well-Lived, Joyful Life by Bill Burnett and Dave Evans
Designers create worlds and solve problems using design thinking. Look around your office or home—at the tablet or smartphone you may be holding or the chair you are sitting in. Everything in our lives was designed by someone. And every design starts with a problem that a designer or team of designers seeks to solve.
In this book, Bill Burnett and Dave Evans show us how design thinking can help us create a life that is both meaningful and fulfilling, regardless of who or where we are, what we do or have done for a living, or how young or old we are. The same design thinking responsible for amazing technology, products, and spaces can be used to design and build your career and your life, a life of fulfillment and joy, constantly creative and productive, one that always holds the possibility of surprise.
Early on in Kendra James' professional life, she began to feel like she was selling a lie. As an admissions officer specializing in diversity recruitment for independent prep schools, she persuaded students and families to embark on the same perilous journey she herself had made—to attend cutthroat and largely white schools similar to The Taft School, where she had been the first African-American legacy student only a few years earlier. Her new job forced her to reflect on her own elite education experience, and to realize how disillusioned she had become with America's inequitable system.
In ADMISSIONS, Kendra looks back at the three years she spent at Taft, chronicling clashes with her lily-white roommate, how she had to unlearn the respectability politics she'd been raised with, and the fall-out from a horrifying article in the student newspaper that accused Black and Latinx students of being responsible for segregation of campus. Through these stories, some troubling, others hilarious, she deconstructs the lies and half-truths she herself would later tell as an admissions professional, in addition to the myths about boarding schools perpetuated by popular culture.
With its combination of incisive social critique and uproarious depictions of elite nonsense, ADMISSIONS will resonate with anyone who has ever been The Only One in a room, dealt with racial microaggressions, or even just suffered from an extreme case of homesickness.
The Wreckage of my Presence: Essays by Casey Wilson
Casey Wilson has a lot on her mind and she isn't afraid to share. In this dazzling collection, each essay skillfully constructed and brimming with emotion, she shares her thoughts on the joys and vagaries of modern-day womanhood and motherhood, introduces the not-quite-typical family that made her who she is, and persuasively argues that lowbrow pop culture is the perfect lens through which to examine human nature.
Whether she's extolling the virtues of eating in bed, processing the humiliation over her father's late in life perm, mourning her mother's passing, or revealing her patented method for keeping the mystery alive in a marriage, Casey is witty, candid, and full of poignant and funny surprises. Humorous dives into her obsessions and areas of personal expertise—self-help, nice guys, cool girls (not her) and how to receive visitors in the bath—are matched by touching meditations on female friendship, anger, grief, motherhood, and identity. 
Reading The Wreckage of My Presence is like spending time with a close friend—a deeply passionate, full-tilt, joyous, excessive, compulsive, shameless, hungry-for-it-all, loyal, cheerleading friend. A friend who is ready for any big feelings that come her way—and isn't afraid to embrace them.
Mom Jeans & Other Mistakes by Alexa Martin
Jude Andrews is famous. Well, at least on Instagram. Her brand is clean eating, good vibes, Pilates, and casually looking like a sun-kissed goddess. In real life, however, she's a total disaster. She has a strained relationship with her fame-hungry mom and her latest bad decision emptied out her entire savings account.
Lauren Turner had a plan: graduate medical school and become the top surgeon in the country. But when she became unexpectedly pregnant, those plans changed. And when her fiancé left her, they changed again. Now navigating the new world of co-parenting, mom groups, and dating,  she decides to launch a mommy podcast with all the advice she wishes someone had given her.
Jude and Lauren don't have much in common, but maybe that's why they've been best friends since the third grade. Through ups and downs, they've been by each other's sides. But now? They're broke, single, and do the only thing that makes sense—move in together, just like they talked about when they were teenagers. Except when they were younger, the plan didn't include a five-year-old daughter and more baggage than their new townhouse can hold.
Sunny Song Will Never Be Famous by Suzanne Park
Sunny Song's Big Summer Goals:
1) Make Rafael Kim my boyfriend (finally!)
2) Hit 100K followers (almost there...)
3) Have the best last summer of high school ever
Not on Sunny's list: accidentally filming a PG-13 cooking video that goes viral (#browniegate). Extremely not on her list: being shipped off to a digital detox farm camp in Iowa (IOWA??) for a whole month. She's traded in her WiFi connection for a butter churn, and if she wants any shot at growing her social media platform this summer, she'll need to find a way back online.
But between some unexpected friendships and an alarmingly cute farm boy, Sunny might be surprised by the connections she makes when she's forced to disconnect.
Like A Sister by Kellye Garrett
When the body of disgraced reality TV star Desiree Pierce is found on a playground in the Bronx the morning after her 25th birthday party, the police and the media are quick to declare her death an overdose. It's a tragedy, certainly, but not a crime.
But Desiree's half-sister Lena Scott knows that can't be the case. A graduate student at Columbia, Lena has spent the past decade forging her own path far from the spotlight, but some facts about Desiree just couldn't have changed since their childhood. And Desiree would never travel above 125th Street. So why is no one listening to her?
Despite the bitter truth that the two haven't spoken in two years, torn apart by Desiree's partying and by their father, Mel, a wealthy and influential hip-hop mogul, Lena becomes determined to find justice for her sister, even if it means untangling her family's darkest secrets—or ending up dead herself.
To enter the palace means to walk a path stained in blood...
Joseon (Korea), 1758. There are few options available to illegitimate daughters in the capital city, but through hard work and study, eighteen-year-old Hyeon has earned a position as a palace nurse. All she wants is to keep her head down, do a good job, and perhaps finally win her estranged father's approval.
But Hyeon is suddenly thrust into the dark and dangerous world of court politics when someone murders four women in a single night, and the prime suspect is Hyeon's closest friend and mentor. Determined to prove her beloved teacher's innocence, Hyeon launches her own secret investigation.
In her hunt for the truth, she encounters Eojin, a young police inspector also searching for the killer. When evidence begins to point to the Crown Prince himself as the murderer, Hyeon and Eojin must work together to search the darkest corners of the palace to uncover the deadly secrets behind the bloodshed.
From redesigning your life and changing habits to immersing yourself in mystery or romance, there is a book out there for everyone. When you spend time with your nose buried in a book, you're actually allowing your brain to explore and blossom. Reading isn't only good for your imagination, it's good for your health. So do yourself a favor this summer and get lost between the pages of your new favorite book, you'll thank yourself later.