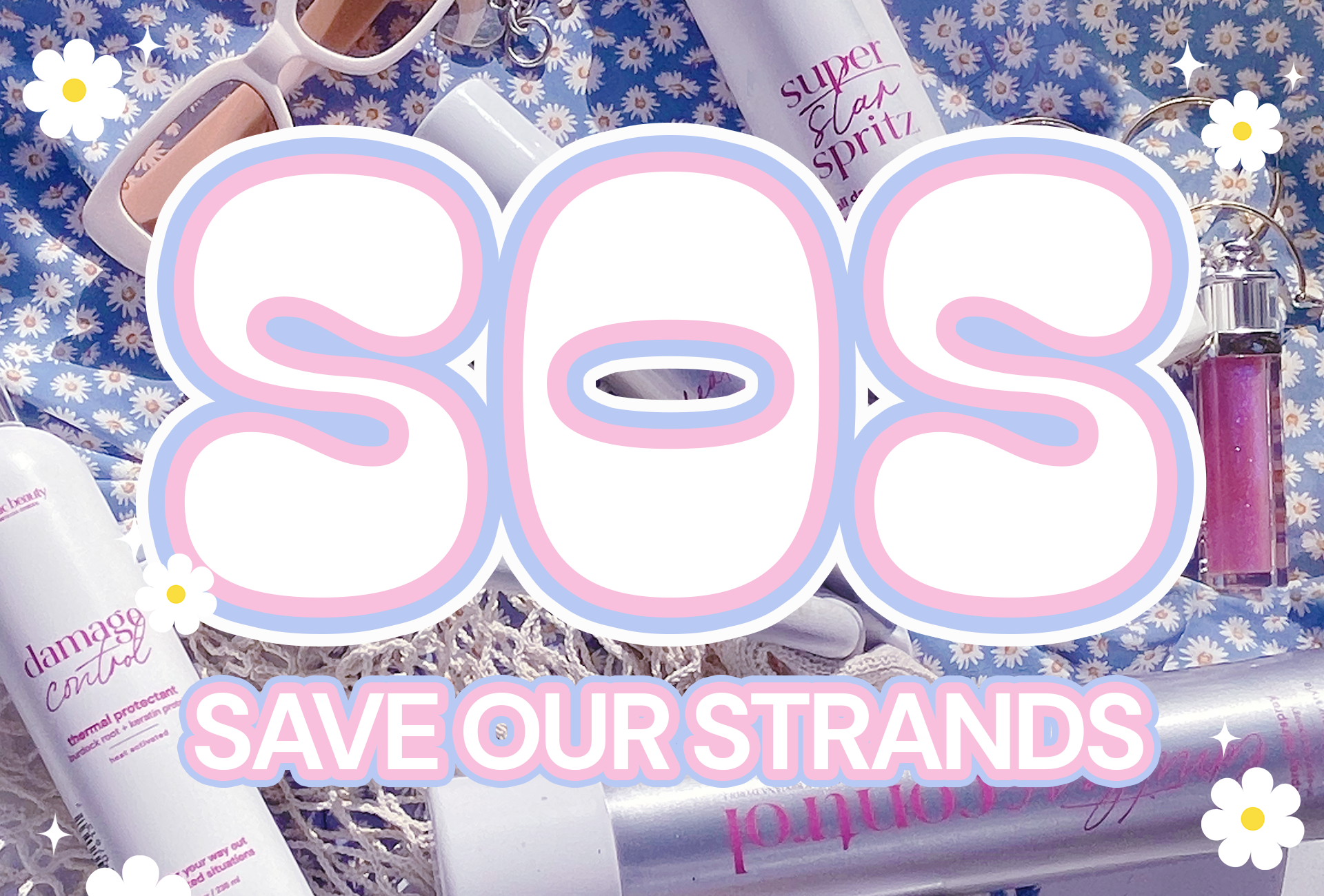 How to protect your hair from heat damage.
 Iced coffee, shorts, bikinis, and the best tan ever? Yes, please. We love it when the temperature begins to rise and we can go outside without a parka. But as fun and as much as we love the heat, it must be said that our hair does not. Between trying the newest styles and blasting it with a blowdryer after a day at the beach, your hair might be crying out for help. But don't worry, we're here to help! With a few tricks and tips, you'll be able to navigate a flat iron without frying that gorgeous head of hair of yours. 
✨

Iconic Tips To Avoiding Heat Damaged Hair ✨

 
No, we aren't talking about champagne (although that's never a bad idea). The first step to keeping your hair happy and healthy happens inside the shower. Choosing a shampoo and conditioner is key to avoiding problems with your tresses. We know how tempting it can be to grab the shampoo on sale for five dollars at the grocery store, but when you cover your hair in sulfates and parabens, just know it's going to cost more in the end to reverse the damage these ingredients cause. We suggest The Power Move bundle as your first line of defense against brittle and damaged hair.
 When you're spending time under the sun, you know the importance of sunscreen. Well, hair is no different. If you are applying heat, you must first apply a thermal protectant. We know it can be hard to find a product you can actually rely on, but lucky for you, Iconic Beauty's Damage Control thermal protectant is the perfect defense against your flatiron and blow dryer. Our heat-activated thermal protectant spray is infused with vitamin-rich Burdock Root extract, plus damage-preventing and strengthening Keratin Protein. Just spray all over or section by section before using applying heat and over time, you'll see stronger, softer hair no matter what your styling tools bring on
We know that when you're doing your hair, you want it finished as fast as possible. You're busy, you have things to do! However, trust us when we say to turn down the heat on your flat iron. We understand that different hair textures require different heat levels, but cranking your styling tool to the top is one of the fastest ways to create heat damage. We recommend keeping the temperature somewhere between 200 to 300 degrees and choosing the lower side with finer hair. It might require a little extra time and patience, but your hair will thank you in the end.
It might sound a bit counterproductive, but when trying to grow your hair, frequent trims are highly recommended. Split ends not only make your hair look and feel a bit rough, but they can also cause damage to spread. By taking regular trips to your trusted stylist, cutting off the edges can prevent these frayed ends from splitting even deeper and traveling up the hair shaft to create more damage. Plus, it also ensures a little quality r&r time at the salon, so what's not to love.
As tempting as it may be to pull out the blow dryer every day, allowing your hair to air dry might be the break it needs. Let your hair breathe and appreciate its natural texture by tucking away your flat iron and being "gone with the wind fabulous." Use a microfiber towel to squeeze out excess water and go on with your day knowing your hair is thanking you for the day off.
If you were blessed with the beauty that is curly hair, finding a protective style that works for you can be life-changing. Styling your hair in twist-outs and braid-outs minimizes the need for extra styling and avoids heat completely. Another pro-tip, invest in a silk cap for sleeping. These bonnets reduce friction between your hair and pillow while you're sleeping and help to avoid frizz and split ends. A win all the way around! 
Learning to care for your hair is a process that can take years. Just because you haven't protected your hair in the past doesn't mean you can't change course now. Using these tips and tricks can reverse the damage you've done in the past and give you the healthy, beautiful hair of your dreams. When you treat your hair with the love and respect it deserves, the changes will be noticeable to everyone around you.  
Have you tried any of these tricks? Let us know below. Don't forget to tag Iconic Beauty on Instagram with pictures of your stunning locks. We can't wait to see it!