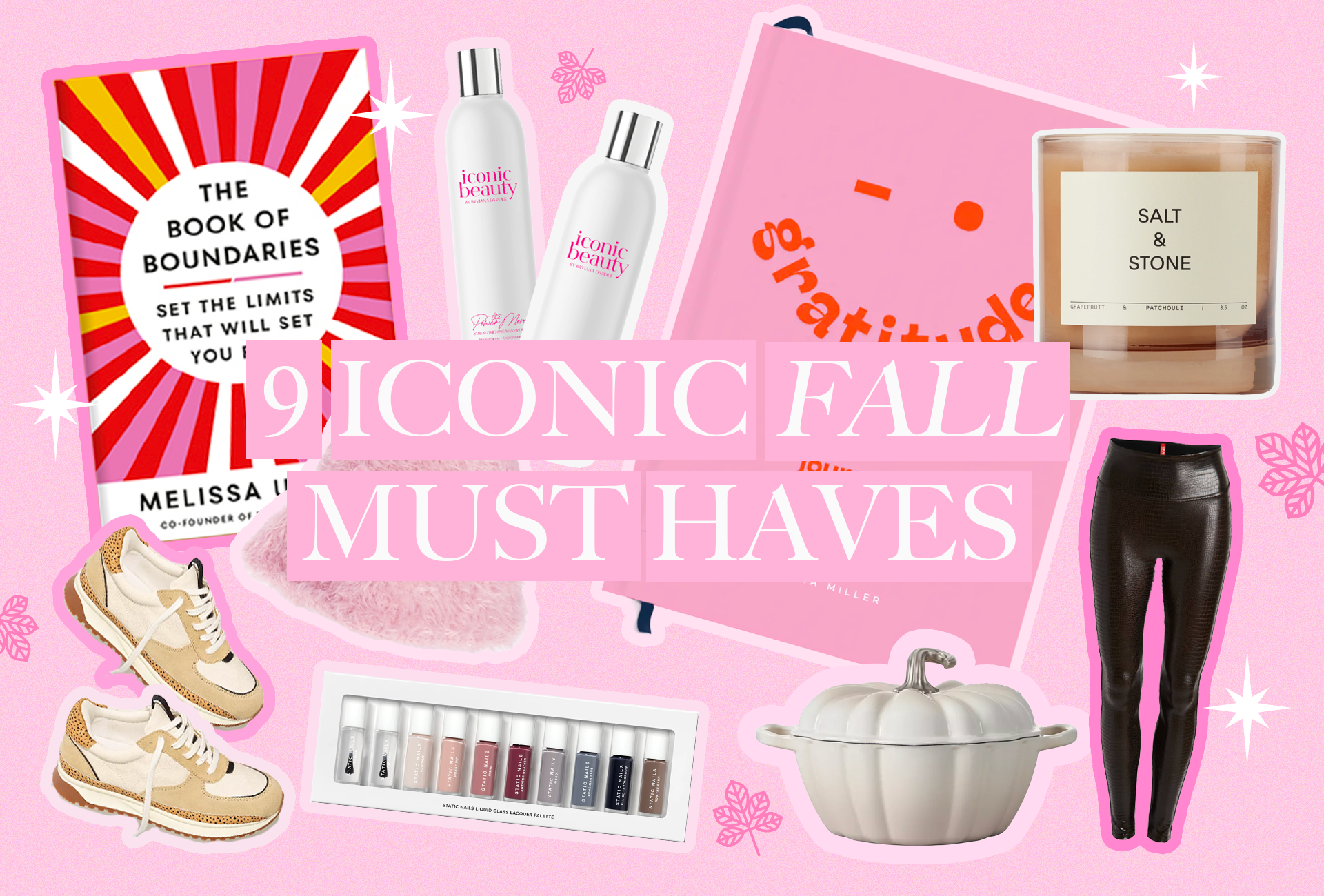 Stay Iconic all season long with our favorite trends and products.
As fall sets in, the leaves aren't the only things changing. Gone are the days of flip-flops and mini-dresses, and in comes the fall trends. Beyond pumpkin spice, pumpkin patches, and all the other ways to enjoy pumpkins, Iconic Beauty is ready to share our favorite fall must-haves that will have you celebrating the brisk weather early nights in. From the newest fashion trends to great reads to household goodies, we have you covered this fall.
9 Iconic Fall Must-Haves
Faux-Leather Leggings. Toss those jeans to the side; it's legging season, Beauty! We love faux-leather leggings for all of the style without losing out on any of the comfort. Whether you dress them up and pair them with a sweatshirt, you'll look put together and ready to conquer the world. Spanx has an amazing pair that delivers on their brand promise, but for a pair that costs about a quarter of the price, check out these leggings from H&M.
The Book of Boundaries: Set the Limits That Will Set You Free by Melissa Urban. As fall sets in, the easy breezy summer days are history. In comes deadlines, school activities, and a seemingly never-ending to-do list. To not only keep your sanity but thrive during these autumn months, setting boundaries is vital. Thankfully for those of us who struggle with setting boundaries, Melissa Urban is coming out with The Book of Boundaries this fall. Complete with scripts and actionable advice, this book will help you achieve all of your goals to close out the year.
Pumpkin Dutch Oven. Nothing screams fall more than a cozy night in with a nice, warm, hearty dinner. Unless, of course, it's cooked inside something shaped like a pumpkin. Le Creuset has come out with an adorable pumpkin cocotte in three gorgeous colors for chefs among us. Of course, if you're new in the kitchen—or just don't enjoy it all that much—you can get an equally adorable option from the Pioneer Woman available at Walmart!
Bucket Hats. Every season calls for a hat, and bucket hats are all the rage this fall! Choose what you love whether it's print, faux leather, bedazzled, or even crochet, there is a style for everyone. If you're not sure about this style yet, experiment with something classic and simple this traditional wool Kangol or if you know it's a look you want to splurge on, this pink faux-fur hat from Moncler is the perfect pick.
Fall Journal (and stickers!) With the end of the year quickly approaching, it's time to make sure you're staying organized and on top of things. Adding journaling to your routine is not only a great way to stay on top of your busy schedule, but it's also a wonderful source of self-care. Even if you've already begun journaling, we all know a new journal is never a bad idea. Papier has so many beautiful choices for not only journals but all the extra goodies that make starting your practice even more fun like these planner stickers and this pom-pom pencil. 
Fresh Kicks. As cool weather begins to set in and we tuck those flip-flops and sandals back into the closet, we have to find a new pair of comfortable go-to shoes. Luckily for us, we don't have to look too far. Gone are the days of ugly, clunky sneakers that you can only wear to the gym. Now, sneakers are as fashionable as they are comfy and Madewell has stocked up on all the different styles and colors you could possibly want. Personally, we're obsessed with this leather and spot dot sneaker for an interesting neutral as well as this brighter color block option. Looking for something just as cute but for a little less expensive? We love this cream sneaker from Target! 
Candle Subscription Box. There is no better feeling in the world that lighting a brand new candle. Watching as the gentle flame causes the wax to melt, the calming ripples breaking the crisp surface just as the beautiful fragrance fills the air should be considered a form of meditation. And thanks to the luxury candle subscription box from Scent, you'll never run out of new candles to light. If you want something a little less expensive but with all the classic scents you've grown up with, check out the subscription box from Yankee Candle for only $25 per box! 
The Power Move. During the hot, humid summer months, our hair seems to thrive in the humid weather. But as the chill sets in and the air gets dry, it's important to use a shampoo and conditioner that keeps your hair feeling soft and strong. The Power Move shampoo and conditioner set from Iconic Beauty is guaranteed to do the trick. Formulated with Biotin and Pro-vitamin B5 for thicker, stronger, fuller strands and super-charged growth, plus 11 amino acids to hydrate and nourish from the root down, you'll see healthy, longer, stronger hair throughout the fall months.
Moody Nails. Nothing says self-care quite like a trip to the nail salon. If Elle Woods taught us anything, it's that the bond between a woman and her nail technician can elevate our lives. This fall when you take a trip to the salon, stay away from the hot pinks of summer and try out the moodier, darker colors for a change. Black, navy blue, hunter green, and burgundy are all wonderful choices for this season. If you are nervous to go too dark, try out a shade of gray to start and gradually go deeper if you like it. We love this set from Static Nails filled with all of our favorite fall colors that will allow you to experiment all season long.
According to astrology, fall is the time for growth, development, and self-reflection. It is the time for us to lean into what we love while also leaving room to discover new things. We hope our list of fall must-haves has inspired you to take the time to indulge in what you already love and to give trends you're curious about a try. Just remember that whatever this fall season brings, you'll always be Iconic, Beauty. 
What are you most excited about this fall? Share below or tag us on IG @IconicBeauty with all your favorite products and trends!